New Products - Turning/Grooving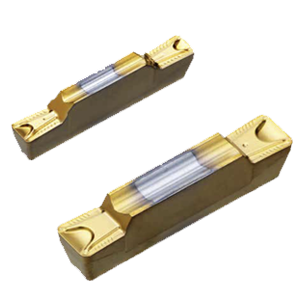 New TDXY Insert for Multi-Purpose Grooving and Turning Applications
The TDXY insert is designed for various applications: external, internal and face grooving as well as turning applications. High feed capability due to the reinforced edge strength and optimal chip breaker result in improved productivity.
The insert line enables good performance even in both continuous and interrupted cutting conditions; the straight front cut-ting edge shape not only enables a flat bottom surface when grooving but also improves tool life by minimizing chipping and notch wear.
---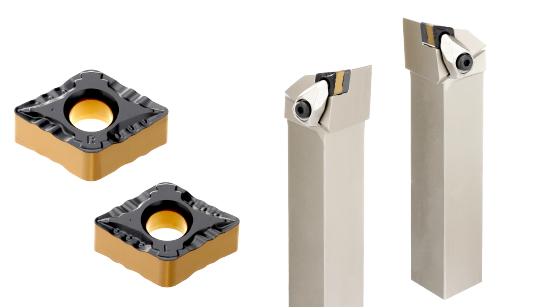 70 Degree Corner Angle XNMV1105 Insert
Ingersoll has expanded the RhinoTurnX line by adding the 70-degree corner angle XNMV1105 insert for multidirec-tional and high feed turning applications.
The RhinoTurnX line dramatically improves productivity due to its all-directional and high feed turning capabilities.
---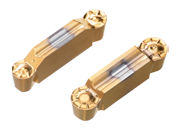 TDT...-RS Precision roundtype insert
The TDT… -RS precision round type insert provides excellent surface fi nish for external and internal profi ling, turning and grooving applications. A sharp cutting edge due to the ground fl ank face and high rake angle reduces cutting force, therefore provides good surface fi nish and longer tool life.
---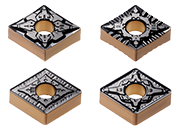 New chipbreaker for steel machining: FLP, MLP, MGP, RGP
Ingersoll has released four new chip breakers from roughing to finishing applications for steel machining. To meet the market's current requirements in automation and improved productivity, we now introduce a series of optimized new chip breakers and grades with improved coating.
Four new chip breakers have been launched. These inserts are easily distinguished by a new designation system that clearly defines their application range. The new chip breakers deliver optimal machining performance and high reliability in a wider range of operations.
---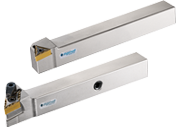 External holders for SWISS-TYPE lathes
The new external turning holders are compatible with RhinoTurn inserts for Swiss-type automatic lathes. For Swiss-type automatic lathes, hook-lever type holders for conventional double-sided RhinoTurn inserts come as the only option in the miniature machining market. Now we offer sleeve holders and clamping holders with screw clamping for external machining, that generate higher precision and clamping force for Swiss-turn machining. The newly added holders (sleeve and square shank holders) are fitted with double-sided RhinoTurn inserts, with twice the number of corners compared to holders for ISO positive inserts.
---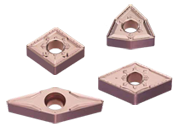 CVD coated grade TT3005
TT3005 - a new CVD coated grade for excellent finishing of heat resistant super alloys (HRSA). The TT3005 CVD coated grade is the latest addition to the T-Turn series and easily noticed by its shiny purple surface. Characterized by high wear resistance due to the ultra-fine substrate, it is also very good at preventing built-up-edges. It is a grade suitable for high-speed finish machining and longer tool life in medium speed conditions. With the introduction of the TT3005, along with the existing TT3010 and TT3020 grades this series now covers a wide range of heat resistant super alloys (HRSA).
---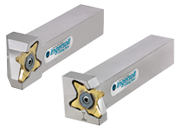 New TQC34 inserts & holders
A larger GoldFlex TO_34 line has been added to the GoldFlex TQ_27 line. The newly added GoldFlex TQC34 insert line is specifically suited for deep grooving and cutting of up to a maximum 10 mm depth-of-cut compared to the existing GoldFlex TQC27 insert's shallow grooving which has a maximum 6.4 mm depth-ofcut.
---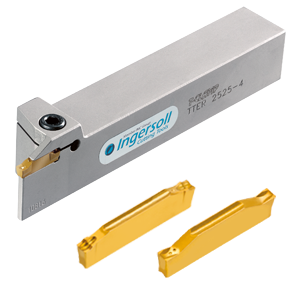 New Chipbreaker types TDUF & TDV
New T•ClampUltra+ chipbreaker product line with two new chipbreaker types TDUF and TDV focused on specific workpiece materials. The TDUF chipbreaker's unique shape is specifically designed for the machining of chrome-nickel alloy steel, low carbon steel and offers exceptional performance when machining bearing steel. Performance wise, the new insert demonstrates excellent chip control in low feed cutting conditions during machining.
---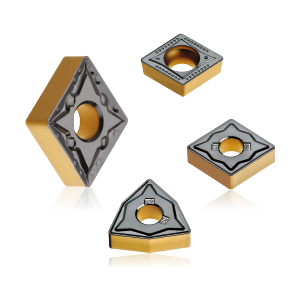 New CVD-Grade TT7025
New GoldLife+ TT7025 - the best grade for low speed and interrupted cutting of cast iron! Ingersoll has been supplying both the TT7005 and TT7015 grades for cast iron machining with great success. Now, an additional grade – the TT7025 grade – has been introduced to widen the scope in order to focus on low speed and interrupted cast iron machining. The new grade has improved abrasion and chipping resistance because of the latest substrates and coatings ensuring excellent performance, stable and longer tool life in low speed and interrupted machining of cast iron.
---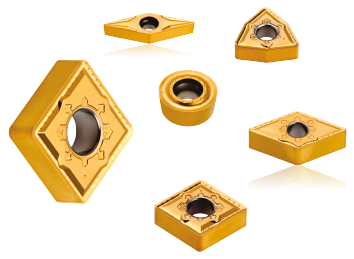 Grades TT3010 & TT3020 MGS- & FGS- Chip breaker
The MGS chip breaker is a negative press type insert with a sharp cutting edge that reduces cutting resistance and heat generation during machining. Additionally, the insert's high rake angle generates smooth chip evacuation while the insert's wide top face means better insert seating, which promotes stability during operations.
The FGS chip breaker is a positive ground type insert. Its sharp cutting edge generates low cutting resistance while guaranteeing high precision machining. The chip breaker minimizes heat when machining heat resistant super alloys and the small dot located in the corner is effective for chip control. Furthermore, it is possible to finish machining without workpiece deformation even when processing thin workpieces.